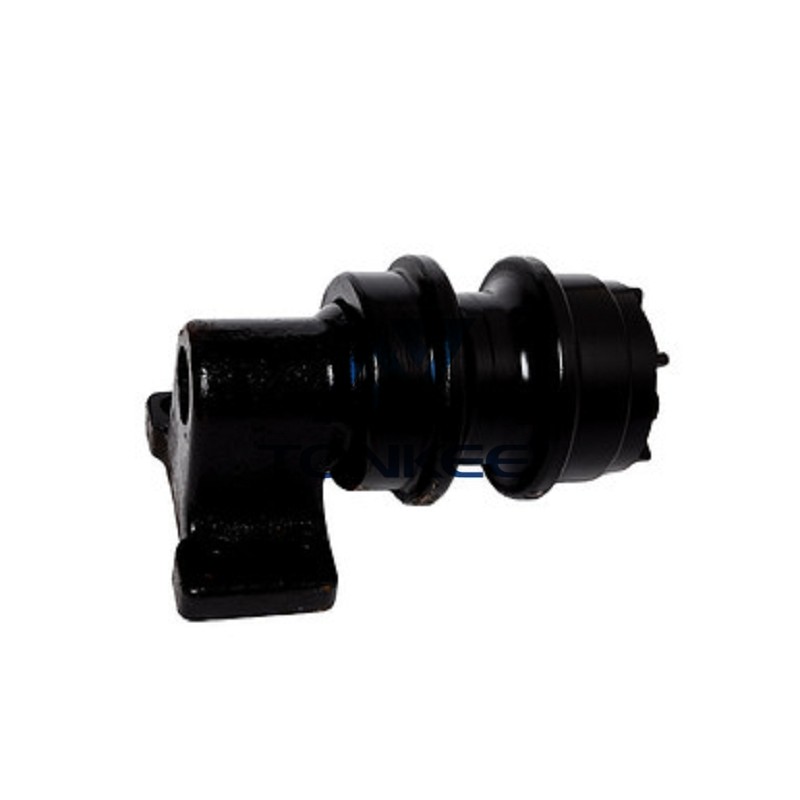 The top track roller is typically made from high-quality materials to withstand the rigors of heavy-duty construction work.
It is engineered to endure substantial loads, shocks, and environmental conditions. The roller consists of several key components, including a roller shell, shaft, bearings, and seals.
Load-Bearing Capacity:
One of the most critical specifications of the Hitachi EX60-3 Series top track roller is its load-bearing capacity. This roller is designed to support the weight of the excavator and the additional loads it may encounter during operation. The load-bearing capacity is a crucial factor in ensuring the excavator's stability and performance, especially when working on uneven or challenging terrain.
Material and Durability:
The roller shell is typically constructed from high-strength steel or alloy materials to enhance durability and longevity. These materials are chosen for their ability to resist wear and deformation under heavy loads and abrasive conditions. The roller's robust construction ensures it can withstand the demanding conditions of construction sites.
Bearings and Lubrication:
The top track roller incorporates precision bearings that facilitate smooth rotation.
These bearings are selected for their ability to handle axial and radial loads, ensuring that the roller can distribute the load evenly and maintain stable contact with the track chain. Proper lubrication is essential to minimize friction and extend the service life of these bearings.
Sealing Mechanism:
To protect the internal components from contaminants such as dust, dirt, and water, the Hitachi EX60-3 Series top track roller is equipped with effective sealing mechanisms. These seals prevent foreign particles from entering the bearings and other critical parts, reducing the risk of premature wear and damage.
Installation and Maintenance:
Installing and maintaining the top track roller is a straightforward process, but it requires proper care and attention to detail. Regular inspection and maintenance are essential to ensure optimal performance and longevity. Lubrication and seal integrity should be checked periodically, and worn or damaged rollers should be promptly replaced to prevent further damage to the excavator's undercarriage.
Compatibility:
The Hitachi EX60-3 Series top track roller is designed specifically for this series of excavators. It is essential to ensure that the roller is compatible with your machine model to guarantee a proper fit and function.