Volvo EC55C(S/N 110001- S/N 120001-125789) excavator spare part VOE14882020 Shieldmaster/4000
Part Name: VOE14882020 Hose assembly
KDSORT: 130
UE: U
ANT1: 1
ANT2: 1
ANT3: 1
GLB_ANM1: S/N 110001-110622
Hose Recipe Asmoverall Length MM: 2350
Hose Recipe Asmoverall Length Inch: 92.52
Hose Recipe Asmoverall Length ToL MM: +/- 1%
Hose Recipe Asmoverall Length ToL inch: +/- 1%
Hose Recipe Fitting OrIentationtol Tol Degrees: +/- 5 degrees
Hose Recipe Special In Structions: Protector connected to fitting A. Cover should be clamped by steel clamp and cable tie.
Hose Recipe Hydraulic Hose Standard: EN (474-1) (5.18.13 Hydraulic Hosees)
Hose Recipe Safety Standard: EN 982-1996
Hose Recipe Assembly Instruction Reference: 1076838
Hose Recipe Version: 3
Hose Recipe Status: A
Hose Recipe Protector Length MM: 650
Hose Recipe Protector Length INCH: 25.59
Hose Recipe Vendor: MANULI
Hose Recipe Grade: 1
Hose Part Hose Description: Shieldmaster/4000
Hose Part Hose Size DN: 12
Hose Part Hose Size Inch: 1/2″
Hose Part Hose Dash: -08
Hose Part Hose Pressure Class MPA: 27.6
Hose Part Hose Pressure Class PSI: 4002
Hose Part Hose Pressure Class BAR: 276
Hose Part Hose Standard ISO: Volvo 103
Hose Part Hose Standard SAE: Volvo 103
Hose Part Hose Standard EN: Volvo 103
Hose Part Hose Standard MSHA: _
Hose Part Hose Structure: Wire braided two layer
Hose Part Hose Remark: Outstanding abrasion resistance
Hose Part Hose Outer Diameter MM: 21
Hose Part Hose Outer Diameter INCH: 0.83
Hose Part Cancelled: N
Hose Part Vendor: MANULI
Hose Part Grade: 1
Hose Part In Program: Y
Catalog: 20155/911/410
Looking for Part NO.VOE14882020?
We supply SUMITOMO / HYUNDAI / Kubota / Hitachi / Kobelco / SAMSUNG aftermarket parts. You can get this part with wholesale price start from 1 pcs. Contact us get the best price.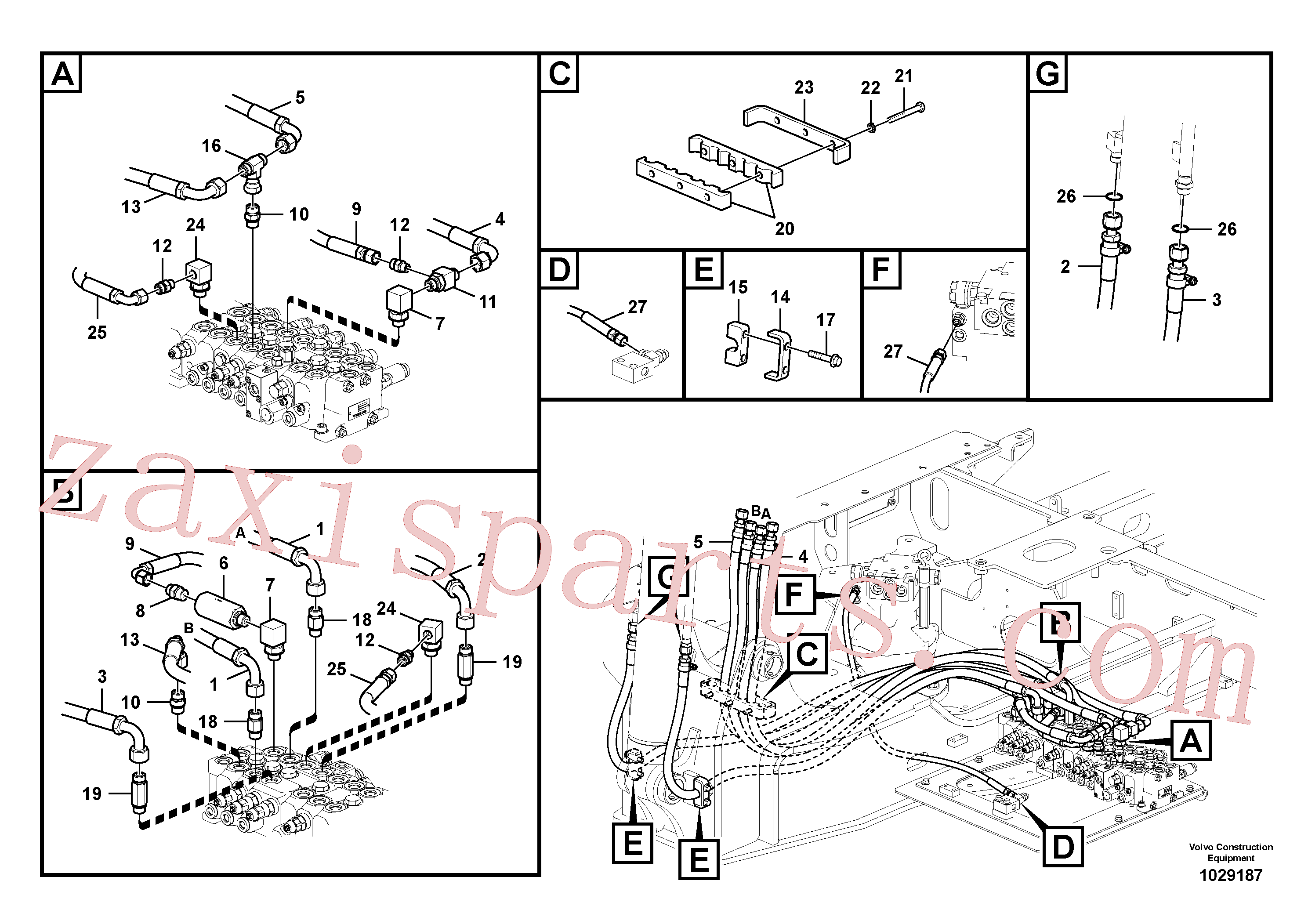 Volvo VOE14882020 Shieldmaster/4000 suitable for 1029187 Hydraulic system, control valve to boom and swing assembly.
Volvo VOE14882020(c.1029187) Hose assembly

Ref: 1029187 / 4 / 3

VOE8282608 / U / FIXED Upper frame

VOE8289360 / U / FIX Upper frame

VOE8290472 / U Boom leak with Hose rupture

VOE8290473 / U Boom leak with Hose rupture

VOE8289030 / U Upper frame

20455/911/410, 20155/911/410
We offer Komatsu / SAMSUNG / Hitachi / ISUZU / CASE / YANMAR aftermarket parts. MOQ 1 pcs is available! Volvo Part NO.VOE14882020 is on sale now!
Part NO. VOE14882020 for Volvo EC55C(S/N 110001- S/N 120001-125789)
This catalogue lists the spare parts for Excavator EC55C.
BASIC MACHINE
PROD NO 8282566, EC55C, SER NO 110001 – / 120001-125789
ENGINE
Part No. 14546121, D3.1DCBE3
Part No. 14546122, D3.1DCAE2
Part No. 14591757, D3.4DCDE3, S/N -121069
Part No. 14617295, D3.4DCDE3, S/N 121070-
Excavator spare parts
have our own production/R&D factory, high quality and low price are our advantages.
With more than 10 years of machinery industry experience, we have received praise from all over the world (customer / reseller / manufacturers / distributors).
Original VOE14882020 included regular invoice.
Used/Second hand VOE14882020 provide 3-12 months quality guarantee .
All Taxes included, no more hidden fee.
Choose us, get permanent online support, our Golden Engineers are ready.